Designer and Master Quilter, Jacqueline de Jonge, will be joining us all the way from
The Netherlands to teach!
Jacqueline's unique style and use of bright colors are loved by many and her classes are always in high demand. She is the founder and owner of BeColourful Quilts and we are very honored to have her visit us here in New England!
Space is VERY limited (24 students) for these retreats. Please email Lisa McCarthy at cpqstudio@gmail.com or
Penny Hoyt at pennyjhoyt@comcast.net ASAP to sign up.
We currently offer two 4-Day Retreats one in the spring and one in the fall.
All Retreats are held at Fireside Inn, Portland, Maine
4 Glorious Days of Instruction with Jacqueline (9:00 - 4:00)
Quilting Room is Open 24 Hours for additional sewing time outside of class
Meals: 4 Grab 'n Go Breakfasts Provided by the Hotel
Dinner together Saturday Night
All other Lunches & Dinners are On Your Own

Four Hotel Nights are Included (Wednesday - Saturday)
This is a pattern specific retreat, not an "open sew" retreat.
Usually, four patterns are offered at each retreat. We work with Jacqueline to decide what patterns will be offered.
The following pattern choices will be offered at the October 2022 retreat:
In Full Bloom, Wish Upon a Star/Purple Sunrise, Festival, Color Dance, Sleep Well, and Happiness 2.0.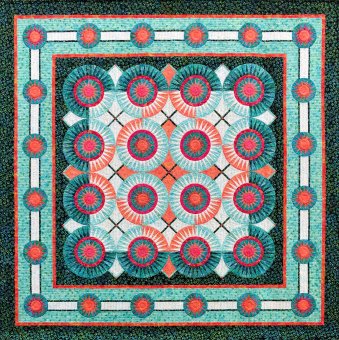 Dates & Costs:

March 24-27, 2022 - BeColourful Retreat - $1,200 pp double/$1,350 pp single
October 20-23, 2022 - BeColourful Retreat - $1,200 pp double/$1,350 pp single
April 13-16, 2023
October 19-22, 2023

A $200.00 Deposit is Required at Registration
Due to the costs associated with bringing Jacqueline over from The Netherlands, signing up
for this retreat is a non-refundable commitment.
(If the retreat is canceled or rescheduled due to another world-wide pandemic and the country closes down again,
of course, your deposit would be refunded or transferred to a future retreat.)
Compass Point Quilts & Quilting with Friends
For Additional Information or to Register Contact:
Lisa at cpqstudio@gmail.com or Penny at pennyjhoyt@comcast.net