Jacqueline's unique style and use of bright colors are loved by many and her classes are always in high demand. She is the founder and owner of BeColourful Quilts and we are very honored to have her visit us here in New England!
Space is VERY limited (20 Students) for this retreat. Please email Lisa McCarthy at cpqstudio@gmail.com or Penny Hoyt at pennyjhoyt@comcast.net ASAP to sign up.
4-Day Retreat – Ramada Inn, Saco, MaineSaturday, February 11 – Tuesday, February 14, 2017 – RETREAT FULLThursday, June 8 – Sunday, June 11, 2017 – RETREAT FULLRetreat Details:
4 Glorious Days of Instruction with Jacqueline
Open-Sew Hours from 7:00 – 9:00 AM & 4:00 – 11:00 PM
Meals Included: 3 Breakfasts, 4 Lunches & 3 Dinners
Hotel Nights Included: Saturday, Sunday & Monday or Thursday, Friday & Saturday Nights depending on which retreat you are registered for.
$850.00 per person Double – $950.00 per person Single – February Retreat
$935.00 per person Double – $1,035.00 per person Single – June Retreat
The cost difference between retreats reflects the "In Season" June Hotel Rates
A $200.00 deposit is Required at Registration
Due to the costs associated with bringing Jacqueline from the Netherlands signing up for this retreat is a non-refundable commitment.
We are still working with Jacqueline to decide what patterns will be offered at the retreat. It's a year away, so we have some time and I know that you will want to see her newest patterns before deciding which ones to do!
These are just a few of the possibilities….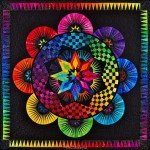 Retreat Sponsored by:Compass Point Quilts & QUILTING with FriendsFor Additional Information or to Register Contact:Lisa at cpqstudio@gmail.com or Penny at pennyjhoyt@comcast.net