When I was first asked by Timeless Treasures to participate in the Reclaimed West Collection Blog Tour, I wasn't quite sure what to write, although I do have a blog on my website – Hahaha!! I mostly use my blog to highlight classes that I'm teaching, new items available, or what's currently happening at CPQ Studio. So…I decided to just start at the beginning and tell my story of County Picnic and its "sister quilt" Spurs…

Last Spring, Quiltworx put out a call for Certified Instructors and Shops to assist them in putting together sample quilts in their new Reclaimed West fabric line which, by the way, is fabulous!! Now, keep in mind, that I work full-time in addition to owning Compass Point Quilts & CPQ Studio, and I have a really, really busy teaching schedule at area shops and guilds. As I look back on my choices, I think…"what were you thinking to volunteer to sew two…not one, but two…quilt tops!!" But…in my defense, I have to say that I just love the concept of "sister quilts", using sections of the first quilt to create the second quilt.

I knew that there were going to be timing issues in getting both of these quilts completed, quilted, bound and shipped before Fall Market, so I contacted my fabulous long-arm quilter, Carrie Zizza of It's A Zizza in Amesbury, MA to find out what her quilting schedule looked like and if she thought she might have room to a "quick turn-around" on these two quilts. Of course, she said "absolutely", she could get these done for me and she loved the idea that the quilts would be hanging at Quilt Market.

With the quilting confirmed, all I had to do was wait for the fabric to arrive…this is where the fun began…The first week of August a package of fabric and foundation papers arrived from Quiltworx. The fabric was wonderful…Bright and colorful, tons of texture, but I have to say that my first thought was…"there's a whole lot of cow on this background fabric for Spurs – Hahaha!!" I reminded myself that the fabric collection was "The Reclaimed West", and I did see the inspiration cow's picture and she is totally adorable!!




Now that the fabric was in the studio, I figured I had five weeks to complete two quilt tops before they needed to be sent off to Carrie for quilting. I had already cut and trimmed the template layout sheets and foundation papers saving a bit of time, so I quickly jumped into "cutting" mode for the first quilt, Country Picnic and it went great! Sewing on Country Picnic commenced and basically for the next three weeks I worked at my "real" job, taught scheduled CPQ classes both in the studio and at local quilt shops, and I sewed…and sewed…and sewed log cabin blocks. The blocks were then cut apart, the colors were flipped around, and 72 spike arc units were inserted into each block. Once the curved piecing was completed, the blocks were sewn together…First quilt done and off to the quilters!!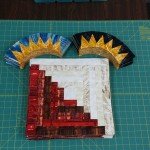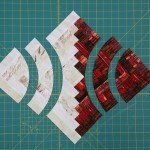 Now, here's the cool thing about these "sister quilts"…The arcs that were cut out of Country Picnic to insert the spiked arc units are used as the arcs for Spurs. One good thing that a portion of the second quilt is already sewn – yippee!! Another cool thing is that the left over fabric from the Country Picnic quilt is used to make the spike units and the pieced border on Spurs saving quite a lot of fabric. Additional fabric was used for the background…this is where the cows come in…and the fence rail border. Once all of the spike units were completed and matched up to the correct color arc, I started to look at layout for Spurs. I noticed that I had to make sure that the background templates had to be oriented and cut to keep all of the cows standing upright. It wouldn't be good to have the cows standing on their heads – Hahaha!! Once I inventoried the number and direction for each background corner section I then matched up the correct spike and arc color and completed the curved piecing. Spurs was then ready to go to Carrie for quilting and at the same time, I picked up Country Picnic which then needed to have a sleeve added, bound, and labeled. A week later, Spurs was ready to be picked up and finished. Unfortunately, I was so focused on sewing and working on Spurs during the last couple of weeks, I completely forgot to take any pictures of Spurs in progress – oops!! I did manage to get a couple of final pictures before sending it out to Quiltworx!




"Sister quilts" have more meaning to me than just being quilts that work together. It's "sisters" that work together…During this five week stretch, I couldn't have done it without the help from my sister, Susan and my "sister from another mister" Ann Marie. They both offered me help sewing and cutting when needed and endless encouragement throughout the entire time I was putting these quilts together. I also have to thank my husband, Tom, who in addition to his constant support, pulled every piece of paper off the backs of both quilts. Anyone who does paper piecing knows what a job that is! Tom spent many, many evenings in my studio with me, even during open-studio nights with the "quilt ladies!" All in all, these two quilts went together fabulously!! The quilting job Carrie did on both quilts was a superb job as usual and I was very excited to see them hanging in the Timeless Treasures booth at Quilt Market in Houston!! Thank you for joining me on this Blog Tour…It's been great fun!! ~Enjoy, Lisa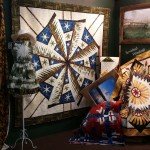 COMPASS POINT QUILTS SALE — 10% OFF — ALL RECLAIMED WEST KITS — IF ORDERED BETWEEN NOVEMBER 17th & NOVEMBER 21st!! As soon as the patterns arrive your kit will be shipped out!! Follow this link: http://compasspointquilts.com/?cat=238

ENTER THE TIMELESS TREASURES GIVEAWAY — Starting Nov 17th – The giveaway will be open for entries throughout all five days of the blog tour. THREE WINNERS will be selected on Monday, November 24th at Noon (12:00 PM) Eastern Time. Follow this link to enter: http://www.ttfabrics.com/reclaimed-west-blog-tour

EACH OF THE THREE WINNERS WILL RECEIVE:

One (1) fat eighth bundle of the entire Reclaimed West collection (24 pcs); One (1) 52-pc charm pack of the Reclaimed West collection; One (1) Braided Table Runner pattern by Quiltworx/Judy Niemeyer; One (1) Geese in the West pattern by Cindi McCracken; One (1) Reclaimed West bookmark & bag tag set from Quilt Dots; and One (1) spool of coordinating thread from the Reclaimed West designer thread set available from Aurifil.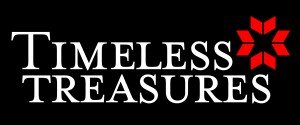 This blog tour is hosted by Timeless Treasures to celebrate the release of Judy & Judel Niemeyer's first-ever fabric line, The Reclaimed West. The Timeless Treasures blog can be found at
http://www.ttfabrics.com/blog/